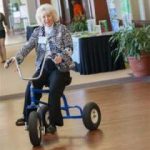 Fran P. Mainella, PhD, Presented with the Albert Nelson Marquis Lifetime Achievement Award by Marquis Who's Who
BONITA SPRINGS, FL, January 03, 2018 — Marquis Who's Who, the world's premier publisher of biographical profiles, is proud to present Fran P. Mainella, PhD, with the Albert Nelson Marquis Lifetime Achievement Award. An accomplished listee, Dr. Mainella celebrates many years' experience in her professional network, and has been noted for achievements, leadership qualities, and the credentials and successes she has accrued in her field. As in all Marquis Who's Who biographical volumes, individuals profiled are selected on the basis of current reference value. Factors such as position, noteworthy accomplishments, visibility, and prominence in a field are all taken into account during the selection process.
President of Fran Mainella Consulting since 2014, and visiting scholar at Clemson University, Dr. Mainella's humble beginnings as a high school physical education teacher in Rockville, CT, eventually led her in a completely different direction. Less than a decade after teaching, she was hired by the City of Tallahassee's parks, recreation, and neighborhood affairs department as an assistant center director. She then spent time with the Florida Recreation and Park Association as executive director and the Florida Department of Environmental Protection as the director of the division of recreation and parks.
During her years as director, Dr. Mainella administered and supervised the 155 state parks, museums, preserves, historic and geological sites, botanical gardens, recreation areas, archeological sites, wildlife parks, and trails, which covered 500,000 acres. She also assisted in creating 14,000 jobs, increased concessions and revenues by 27 percent, created the award-winning "Help Our State Parks" gift catalog, founded the public-private "Partnership in Parks" funding, reorganized and decentralized the division, increased volunteerism by 39 percent, initiated publishing a magazine-styled park guide for Florida, and instituted regular meetings with user and environmental groups.
In 2001, Dr. Mainella was appointed to the U.S. Department of the Interior as director of the National Park Service (NPS). Appointed by George W. Bush, she was the 16th person to serve in that capacity and the first woman to uphold the role. In her role, she managed 390 units which entailed 84 million acres of national parks, monuments, preserves, national trails, historic sites, battlefields, scenic rivers, and wilderness areas. In addition to representing the NPS before the public and the United States government, Dr. Mainella administered programs such as the Land and Water Conservation Fund, the Historic Preservation Fund, and the Junior Ranger and Web Ranger youth programs. She later retired in October 2006.
During her 12 years as director of Florida's State Parks, Dr. Mainella received a Gold Medal Award, recognizing Florida as the best state park system in the country. Joining the South Florida National Parks Trust board in 2014, she is the organization's former vice chair. The organization is a non-profit partner of South Florida's four national parks.
At Clemson University, Dr. Mainella taught graduate programs, developed research programs, published in scholarly journals, and advised graduate and undergraduate students. Her research has included the value of play and reconnection to nature in the lives of children and adults. She also studies and presents on national and state park issues and leads courses on the value of national parks, resource management policy, nature deficit disorder, special problems, and independent study on parks and recreation. Furthermore, she serves as a guest lecturer in facility management, historic preservation, tourism, and introductory courses in the department of parks, recreation, and tourism management and is co-chair of the U.S. Play Coalition, a Clemson-housed, international network of individuals and organizations that promotes the value of play throughout life.
The author of many articles in various professional publications, Dr. Mainella also wrote the introduction to National Geographic's "Ten Best of Everything: National Parks" and contributed the acknowledgement in Richard Louv's book "The Nature Principle." Formerly on the advisory board for the environmental council for "Newsweek Magazine," she has also been known for her many speaking engagements and for serving as a lecturer at both SUNY and East Carolina University, and for serving on various boards during her career, including as president of the Florida Society of Association Executives, officio board member of the American Academy for Park and Recreation Administration, and treasurer of the National Park Foundation. Currently, she serves on the Board of the Children and Nature Network, Guest Services Inc., Clemson University Institute for Parks, and serves as Vice Chair of the South Florida National Park Trust.
Dr. Mainella earned a BS, cum laude, at the University of Connecticut and an MS in Counseling at Central Connecticut State University. In 2002, she received an honorary PhD in Public Service from Central Connecticut State University. She has earned countless other awards for her work as well, including an Outstanding Alumni of the Year Award from the University of Connecticut Neag School of Education in 2011, an Award of Excellence by the Clemson University board of trustees from 2007 to 2010, and a Pugsley Medal for Outstanding Leadership in 2007, the highest award given by the American Academy for Park and Recreation Administration. This was her second time winning this award. She also won a William Penn Mott Jr. Award for Excellence from the National Society for Park Resources in 2006, a Sheldon Coleman Great Outdoors Award from The American Recreation Coalition in 2002, and a Walter T. Cox Award for leadership in public service, public land administration, and natural and cultural resource policy from Clemson University in 2002. Dr. Mainella has been highlighted in Who's Who in America, Who's Who in American Politics, Who's Who in the East, Who's Who in the South and Southwest, and Who's Who among American Women multiple times.
In recognition of outstanding contributions to her profession and the Marquis Who's Who community, Fran P. Mainella, PhD, has been featured on the Albert Nelson Marquis Lifetime Achievement website. Please visit www.ltachievers.com for more information about this honor.
About Marquis Who's Who :
Since 1899, when A. N. Marquis printed the First Edition of Who's Who in America , Marquis Who's Who has chronicled the lives of the most accomplished individuals and innovators from every significant field of endeavor, including politics, business, medicine, law, education, art, religion and entertainment. Today, Who's Who in America remains an essential biographical source for thousands of researchers, journalists, librarians and executive search firms around the world. Marquis publications may be visited at the official Marquis Who's Who website at www.marquiswhoswho.com.
Powered by WPeMatico